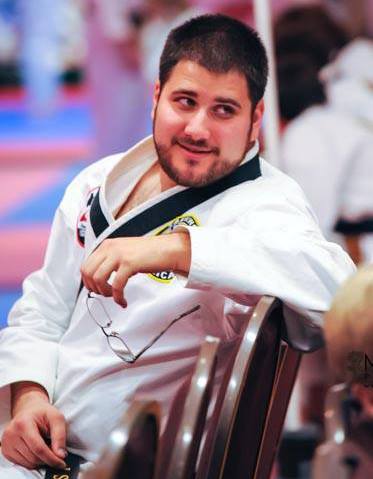 Jordan Slomovitz
I've been doing Taekwondo for more than half of my life, and it was just by chance that I started taking classes.
I won a free month of classes in a Boy Scout raffle and so it began.During my younger years I participated in many sports; soccer, baseball, hockey, and bowling but Taekwondo has been the one constant that has always given me purpose.
When I started taking classes I was an overweight child with a severe attitude problem. But that all started to change when I took my first class at Perdue's Westerville Taekwondo (formerly Westerville Taekwondo America) under the guidance of David Perdue. Let me tell you, to say that Mr.Perdue had his work cut out for him was an understatement.He was tough, but always fair and he never let me get away with being angry or disrespectful. He taught me how to laugh at myself and to accept myself for who I am.This was critical to helping tame the anger and attitude towards those that picked on and made fun of me.
After years of training I had achieved the rank of 1st Degree Black Belt and knew I needed to pass on the love I had for Taekwondo to others.That is when I devoted myself to teaching, to help kids and adults accept what they cannot change and find the power and wisdom to change the things they can.The word "Can't" is not in my dictionary and you won't find it in my school. Anything is doable. My instructor has always told me you need three things to succeed; Desire, Commitment, and a Positive Attitude.